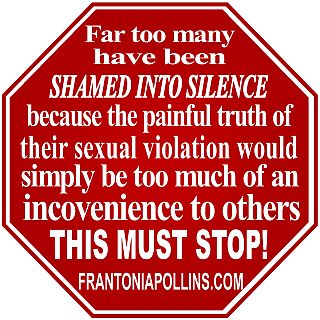 My GOD!! It looks like I struck a nerve…
For the last 24 hours my Facebook page / inbox and my private email inbox has been ablaze; further, my phone has not stopped ringing with messages about my blog post on yesterday. If you didn't read yesterday's post, here is the link.
HUNDREDS of women (and men) have fearlessly poured out their hearts as they share their own experiences of sexual violation and shame.
WE ARE NOT ALONE!!

I have always known that I was not the only one who has had an experience of sexual violation but I had no idea how many others had been shamed into silence and simply needed permission (even if it came from an outspoken stranger online) and a space to tell their truth.
Obviously the issue of sexual shaming is one that MUST be addressed.
Stay connected because together we will take a deeper look at this often ignored cause of so much pain, confusion and guilt. I am creating a sacred space for those who have been shamed into silence to finally give voice to their pain so that the healing can begin. 
To ALL who shared and commented, I say thank you. Please know that I HONOR each and every one of you for your courage and transparency; and know that I HEAR YOU.
From my heart to yours,