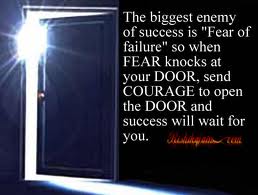 Too many of us allow negative experiences from our past to become the controlling compass of the Divine Destination of our future.
We have unconsciously yet carefully & painstakingly constructed a "mental prison" of emotions, erroneous beliefs & reactionary behaviors, designed to defend our current false illusion of a so-called "Comfort Zone."
We say with our mouth that we want love, wealth, health, success & happiness but by holding on to the pain in our MIND, we reject the process of transformation that is necessary in order to PRE-pare ourselves for the receipt of the desire in our heart/soul.
The UN-mutable Laws of the Universe DO NOT discriminate,
they simply respond to the deepest belief held in heart/soul of a man/woman. Not only is it "as a man thinketh
in his heart, so is he; but so shall he receive. The problem is that unconsciously, our confusion creates
the very situation(s) we most fear and say that we least desire.
Holy Scripture says: "A double minded man/woman is unstable in ALL he/she does
and therefore should not think that he/she will receive anything from the Lord (Law)".
When was the last time you to asked the Most High for a blessing only to reject it because
the lens through which you have chosen to view life continuously prevents you from
re-COGNIZING the very thing YOU asked for?
Know this, until you choose to GO THROUGH the TRANSFORMATION PROCESS,
you will continue to CREATE confusion, stress, frustration & INSTABILITY in your life & affairs.
© 2012 Frantonia Pollins International
————————————————————————————————————-
Where is fear showing up in your life? What are you REALLY afraid of?
What tools or practices do you use to move through your fear?
Don't forget to leave your comments below and click to share.
WANT TO USE THIS ARTICLE IN YOUR EZINE OR WEB SITE? You can, as long as you include
this complete blurb with it: 
With a zealous commitment to "re-introducing" women to their TRUE power, Frantonia Pollins
is a compelling, compassionate & RESULTS oriented author, speaker & success coach.
Affectionately known as "America's First Lady of Empowerment," Frantonia is on a personal
crusade to inspire 1,000,000 Women to conquer their fears about Money & Wealth, Discover
their own uniquely Divine & powerful purpose on the planet and create successful businesses
that empower them to leave a Multi-generational Legacy of Wealth. Her latest initiative is the
FIRST LADY LIFESTYLE ACADEMY, a 12 month coaching intensive designed to guide women
toward being powerfully positioned as "First Lady" in 7 key areas of their lives.
1-Success Mindset
2-Health & Wellness
3-Love & Relationships
4-Spiritual / Self Awareness
5-Wealth Creation
6-Career & Entrepreneurship
7-Leadership, Legacy & Life Purpose
For more info visit www.FrantoniaPollins.com