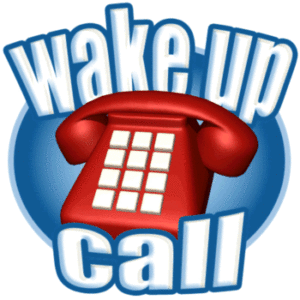 FIRST LADY WAKE UP CALL: Just in case you missed the memo – Where you once may have only had to compete with the guy across town for a job/client, the FACTS are that we now live in a time where we MUST compete with the guy across the globe.
I've read inspiring stories of people who wanted "it" so badly that they were willing to float on a make-shift raft through shark infested waters with no food, no money, no contacts; fueled only by their FAITH and the HOPE for access to the opportunity that would allow them to fully explore the possibility of their DREAMS.
Now is NOT the time to make excuses!! Now is NOT even the time to allow REAL reasons to become a hinderance to the achievement of your goals. Now is the time to get your "weight*" up!! (*skills, connections, knowledge, personal development, faith, wealth consciousness, total health, mindset, business strategy, marketing plan, sales skills, REALationships, Spiritual life).
You must want is so badly that you are willing to do WHATEVER it takes to make it happen. 
So the only question remaining is, how badly do YOU want it? 
---
Frantonia Pollins, affectionately known as The First Lady of Empowerment, is the founder & CEO of The First Lady Lifestyle & Leadership Academy, an exclusive membership movement which offers the ultimate in business mentoring and life coaching services designed to empower 1,000,000 Women Worldwide to conquer their fears about Money & Wealth; inspire them to discover their own uniquely Divine & powerful purpose on the planet and guide them as they create successful businesses that will transform the world and leave a Multi-generational Legacy of Wealth.
Through her workshops, courses, coaching programs, and products, Frantonia shows her students how to experience confidence, freedom & empowerment from the inside out so that they can create the phenomenal life of their dreams.
As a wealth & success coach to thousands of women around the world, Frantonia's goal is to be your personal guide on your journey from being a woman burdened by D.E.B.T. to that of one who is TRULY living a life of Wealth, Freedom & Purpose.
Her signature program, The "First Lady Lifestyle Million-Heir Business Blueprint", is a 12 month group coaching intensive designed to offer 100 active emerging entrepreneurs an opportunity to be part of an exclusive community that shares a burning desire AND a willingness to do WHATEVER it takes to grow their business from start-up to 6 figures.  
The First Lady Lifestyle & Leadership Academy is currently offering select individuals the opportunity to secure a partial Scholarship for the 2013 intake for "First Lady Lifestyle Million-Heir Business Blueprint" group coaching intensive. This scholarship is set at 75% off the standard 12 month fee. To request your scholarship application, please email us at info@FrantoniaPollins.com
---
QUESTIONS? COMMENTS?
WHAT IS IT THAT YOU WANT BADLY ENOUGH TO DO WHATEVER IT TAKES? 
P.S. If this resonates with you, please like, tweet, +1 or share it with your friends. I truly appreciate your support.